Well the first year is over in our VR Mindfulness project. Now we must hand it over to the next Rang Sé to continue the work. We have had a very enjoyable experience conducting the research which will be the basis for making the decision as to what apps we will develop for the VR sets during the coming year.
The project has been a 100% positive experience for both ourselves in Rang Sé and for all the pupils who participated in our study. As with most things in life, we have found that one solution does not fit all.
Our students who participated in the study fell into two categories, those that were very shy, nervous and anxious and those who were exited and giddy and found it difficult to concentrate. Apart from one child in Junior Infants, all of the children were fully engaged with the VR headsets and enjoyed their time each week on it. The child in Junior Infants was reluctant at first and nervous but did participate but we found he was just as happy to have time away from the class room and do some drawing.
We tested various apps for the Oculus Go, some were meditative or had a relaxing element to them (Gala 360, Gala Relax, Forest of Serenity) and others had more of a physical element to them where it required some movement from the user.
You might imagine you would be best to have the more excitable children use the calming apps but we found that it was not always the case. Some of the children were actually quieter and happier leaving the session having used some of our more "physical apps" like Header, Bathroom Shooter (shooting ducks)  and Merry Snowball. Those children that were very anxious also seemed to benefit from the physical activity. Being stressed or anxious can have a physiological effect on you, your body is tense and rigid. We found that activity for these children in particular, made a difference and some of the Rang Sé even noted that children in their group left the room walking differently, possibly lighter in mind and body!
This coming year Rang Sé will learn some basic programing in Unity. Unity is a cross-platform game engine and we will be able to develop a simple game which we will then upload to our Oculus Go. We plan to make two types of games, one which will be scenery with calming sounds and atmosphere with the ability for the user to explore their surroundings,
and the second one will be a roller-ball game which will require the user to move the ball using their own movement.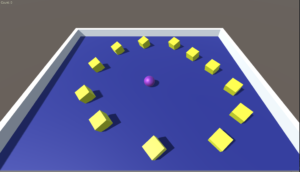 We hope to have the help during the year from a past pupil of GaelScoil Riada and member of the Athenry Coderdojo who is now in TY in Clarin College in Athenry. He will help mentor us during the year in the coding and this will go towards his Gaisce Award.